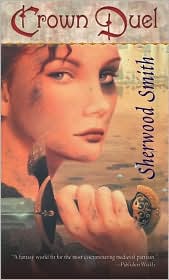 Tags: middle grade, YA, fantasy, war, politics, romance
Summary
Meliara and her brother Branaric's lives change forever the day they promise their count father on his deathbed to overthrow the king's corrupt regime. Mel and Bran lead a ragtag bunch of loyal servants and friends against the king's army, which throws Mel again and again across the path of the Marquis of Shevraeth, a stoic man hiding quite a few number of his secrets. When, however, the dust of war has settled, Mel discovers that she just might prefer running and hiding across the countryside to save her life better than putting on the façade of gracious noblewoman in the new king-to-be's court.
Review
Oh how I adore feisty heroines embroiled in duplicitous, action-packed fantasy political intrigues and romance! I wish I had known about this book earlier, for I have a feeling it will be one that I return to again and again for that magical dose of adventure, feminism, and romance.
Mel is my favorite kind of fantasy heroine: tough, resourceful, opinionated, and scared of being seen as vulnerable despite her deeply warm heart. I don't even care that this type of female protagonist is a fantasy trope, because I just love 'em. I loved reading about Mel's struggles to avoid capture at the hands of Shevraeth and the king's other men. And then I loved reading about Mel's struggles to make herself a gentlewoman, worthy of the respect of the court. Mel is a protagonist worthy of Tamora Pierce's creations.
I love that this book's pacing never drags, which is great because I just get so darn bored of the MC's moody contemplations of anything and everything that has or hasn't happened to her. I admit wholeheartedly that I adored the book's romantic subplot and, yes, will probably reread this book many times for mostly that element. It reminds me of a sort of Elizabeth Bennet-Mr. Darcy relationship arc, and I will leave it at that appetite-whetting point.
CROWN DUEL
is a must-read if you love your Tamora Pierce and Gail Carson Levine. Maybe it doesn't break new ground in lighthearted fantasy literature, but it fuels the fire that keeps my heart warm, fuzzy, and swooningly romantic. Sighhh. Now, back to rereading favorite bits…
Similar Authors
Tamora Pierce
Gail Carson Levine
Megan Whalen Turner
Writing:
4/5
Characters:
5/5
Plot:
5/5
Overall Rating:

4.5

out of 5
Cover discussion: 2 out of 5 -
Ack. Someone might've taken creative license a bit too far... That's definitely not how I pictured Meliara at all, and is just overall very awkward, though it definitely shouts "young fantasy!" to me.
Penguin Firebird Fantasy / June 2002 (reprint) / Paperback / 480pp. / $8.99
Personal copy. Yay!